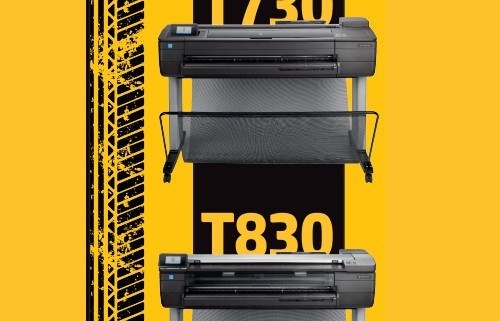 HP T730 & T830 Promo
The new HP T730 and T830 Designjets were released at the end of last year. These robust, highly mobile, WiFi enabled large format printers have been designed with the construction industry in mind – specifically to withstand being moved from one construction site to another. So naturally we opted for a construction themed look and feel to our promotions.
In the Post
We decided it would be an interesting hook to send personalised "press-out" 3D models of the T730 printer so that recipients can build their own printer and have it sit on their desk. The A5 artwork of the printer includes the pURL to the competition / promo landing page. The envelope carries the message ", there's a printer with your name on it inside. Oh, and it's FREE." Click on the images below. The little Lego dude is there to show scale. This HP campaign is LIVE – we're actually only halfway through and these have yet to be sent.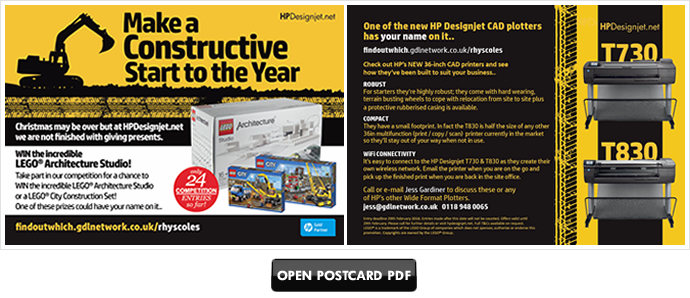 ---
Eshots
We have sent the following eshot to just over 2,000 people. Results are as follows..
• 403 Opens (20% of total)
• 99 Visitors (25% of opens)
• 30 Competition Entries (30% of visitors)
• 24 Unsubscribes
Hot leads
The following data reflects individuals that opened the eshot, clicked onto the landing page and then proceeded to "find out more" about the HP machines..
• 7 visits to the T830 page on hpdesignjet.net
• 6 visits to the T730 page on hpdesignjet.net
• 1 visits to the T930 page on hpdesignjet.net
T730 & T830 Eshot, Landing Page & Competition
Following the postcards, we then sent the following emails. Click on each to see them in full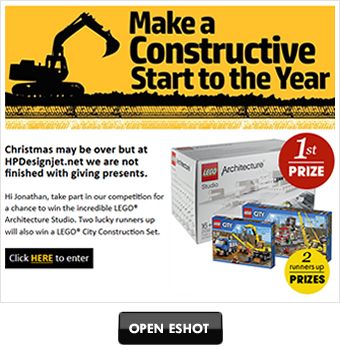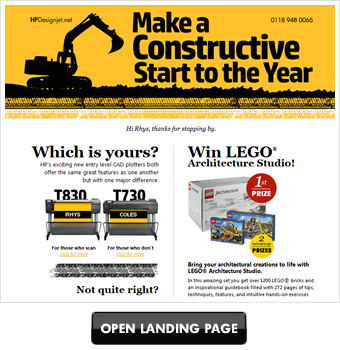 http://gdlnetwork.co.uk/wp-content/uploads/2016/01/lego-thumb.jpg
405
500
rhy5i3
http://gdlnetwork.co.uk/wp-content/uploads/2014/12/gdl1.png
rhy5i3
2016-01-14 11:31:54
2016-02-05 14:10:01
HP T730 & T830 Promo